Through Isabel's efforts Happy goes to school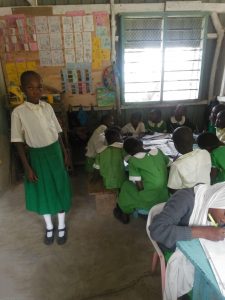 Happy is one of the many children in Mombasa who did not go to school until recently.
But thanks to the enthusiastic collection of Isabel Jetten, she is now attending the Thamani Primary School in Bamburi, Mombasa.
Officially, primary education in Kenya is free. Yet it doesn't work that way. The parents still have to pay for everything: not only the compulsory uniform and shoes, but also for books, notebooks and sometimes also for water and electricity.
Isabel did volunteer work in Mombasa in the summer of 2018. There she saw that many children did not go to school. Back in the Netherlands, she wanted to do something about this. She is a student herself, so sponsoring a child was a bit too much for her. So she set up a collection Not only with friends and acquaintances, but she received a nice donation from a  supermarket nearby. All in all she has collected enough money to send Happy to school for at least 2 years. A great result. Thank you Isabel for this great initiative and all donors for their gift. Asante Sana!
Do you also want to help a child go to school? Then click here.